An Introduction to the Mediterranean Cuisine with Kasbah, Bangsar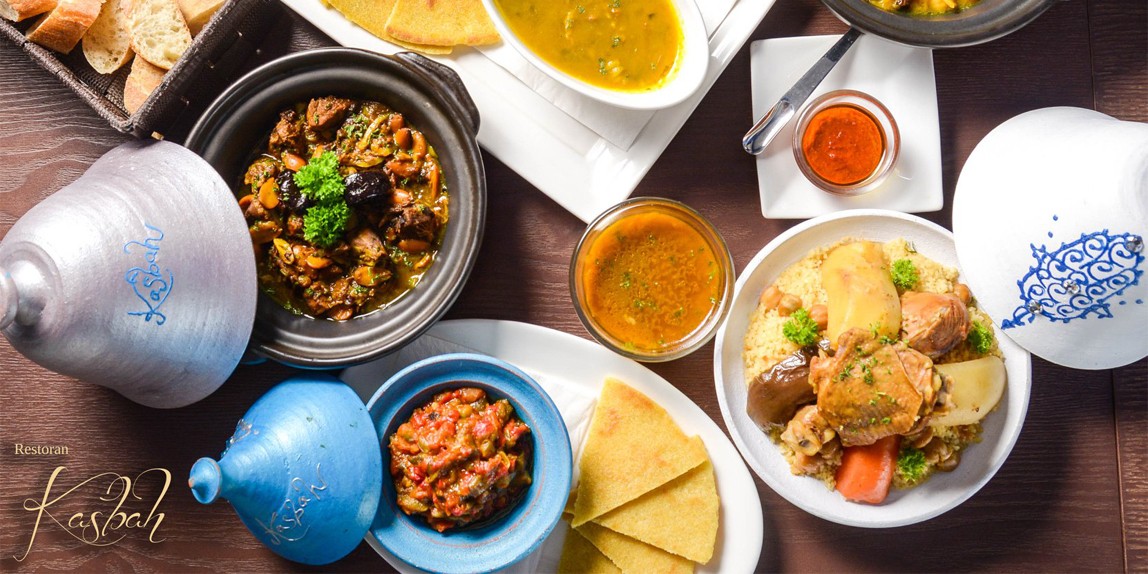 Named after the walled citadels of North Africa, Kasbah is one of the most recent restaurant that has opened in Bangsar offering authentic Mediterranean cuisines that ranges from Moroccan to Italian dishes.
Well, it was also our very first time trying a Mediterranean cuisine. What we did was just to order the chef recommended dishes which seemed interesting and different.
For starters, we had a full-on vegetarian sharing platter, Kemia (RM28). There were selections of carrot salad that was marinated with spices, Moroccan zaalouk (made with mashed roasted eggplant, tomatoes, garlic, olive oil and spices), mechouia (known as the Tunisian salad that is made with capsicum, tomatoes and olive oil), ordinary salad and olives, complemented by Algerian semolina flatbread (a kind of bread that is cooked on the stove and contains no flour). It is apparently best to eat with the bread, so we did! It tasted very much like Indian food due to the kind of spices that they used. If you're a big fan of spices, this is definitely the one to go for.
We also had their chef recommended soup, Harira (RM15) - a savory authentic Moroccan soup made of vermicelli, chickpeas, tomato, parsley, coriander and pulled lamb, making it a filling and satisfying dish. Harira is particularly famous to be eaten during Ramadan in Morocco, as it is served to break the daily fast. The flavours from the ingredients weren't overpowering each other, it was well-balanced, flavourful, and definitely, very appetizing!
Now to the main course. We had Royal Couscous (RM35), our favourite by the way - served with lamb, chicken and merguez sausage meat, topped with carrots, pickles and chickpeas. Couscous is basically one of the most well-known dish when it comes to Moroccan cuisine.
They also have lunch sets over at Kasbah, so we thought to give it a try as well. We ordered Tchektchonka Panini (RM22) which is inclusive of house salad and a glass of soft drink. Originated from Tunisia, cooked with tomatoes, onions, capsicum and eggs. To us, it was somewhat similar to the taste of mechouia, it's just that there was an extra layer of flavour from the additional eggs in the ingredients.
Last but not least, the Moroccan smoothie (RM14). It was absolutely refreshing and yummy! It was blended with strawberries, banana, apricot, orange and vanilla ice-cream.
It was overall a very different experience for us, but definitely a good one too! Everything was appetizing, flavourful, and not to mention, great service. We recommend to try at least once, then you'll know exactly what we meant.
Kasbah Kuala Lumpur
Address: 100 Lorong Maarof, Kuala Lumpur, Malaysia
Opening Hours: 11am to 11pm daily