Customize Your Nasi Lemak at The Nasi Lemak Factory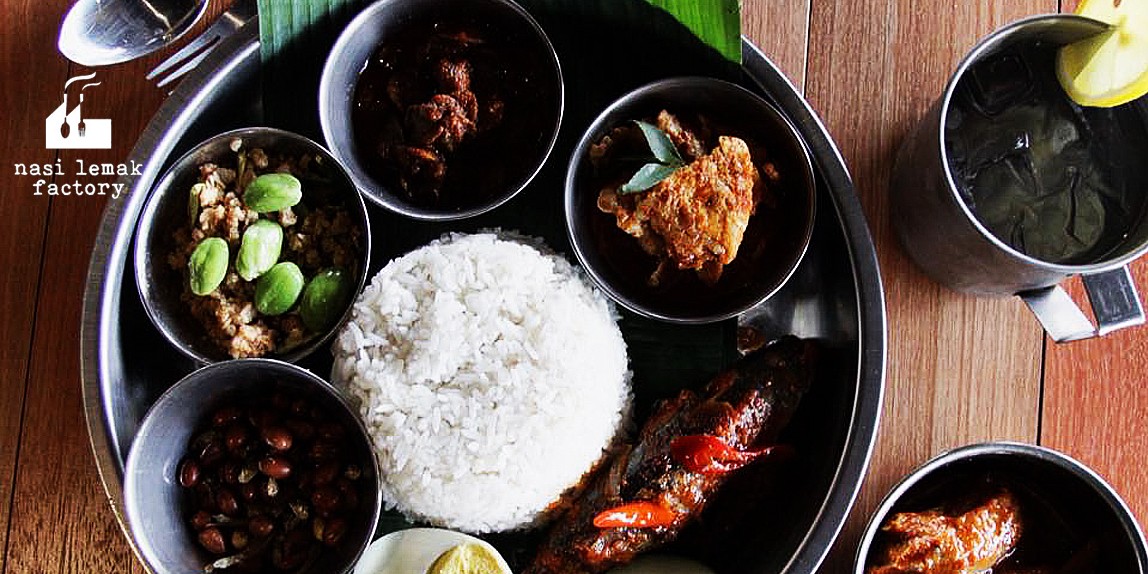 As soon as we stepped into the restaurant, we were greeted by aromatic scents of spices and herbs wafting through the air. Industrial simplicity was the overall design of the place, balanced nicely with pots of friendly greenery in most corners.
If you're into customizing your nasi lemak, this is the right place for you! You'll have the choice of choosing multiple sides suited to your palate. You can even order up to 5 side dishes with a price that starts from RM9.90. There are 7 different sides for you to choose from and that's excluding the special add-ons.
We had 2 plates of nasi lemak with 2 side dishes each, and one special add-on of egg sambal. The minute the dishes arrived to our table, we could smell the fragrant pandan aroma from the rice. The sambal was not sweet, thank goodness for that, and most of all, it was as spicy as we hoped!
For the first plate of nasi lemak, we chose pork curry and fried chicken as our sides. The pork curry was unexpectedly good, the curry was flavourful and spicy while the pork was well-cooked. Even though there was nothing special about the fried chicken, it was freshly fried and the meat was juicy, which was good enough for us.
In the second plate of nasi lemak, we had nyonya curry chicken and petai with minced pork and dried prawns along with the special add-on, egg sambal (RM2.90). Without a doubt, the nyonya curry chicken was bursting with yumminess - the taste, the aroma, the flavour, all thanks to the expert blend of herbs and spices in the marination and curry.
Other than nasi lemak, we also tried their very own, 100% homemade and natural ice cream with no preservatives or artificial colouring. We tasted 3 flavours (price starts from RM7.90, but the more scoops you get, the cheaper it is!) - rosemary pumpkin seed, callebaut Belgian dark chocolate and last but not least, their limited and seasonal durian flavour.
The rosemary pumpkin seed ice cream was surprisingly refreshing! The ice cream had a tea-like flavour which came from the rosemary along with crunchy pumpkin seeds.
If you're a fan of chocolate ice cream, please go for this. The chocolate was so rich and being dark chocolate, it wasn't too sweet - we loved it!
Durian, oh durian. Usually you won't get to eat any durian flesh when it comes to durian ice cream. But in this case, we were delighted to find chunks of durian flesh within the ice cream!
Other than all these good food, there are also other main meals and snacks for you to dig in!
What's life without any good food, right? NASI LEMAK IS LIFE
39G, Jalan Dataran Cheras 2, Cheras Traders Square, 43200 Batu 9 Cheras, Selangor.
Opens from 8am - 10pm.