Fitbit Ionic: The Hybrid Fitness Smartwatch You've Always Wanted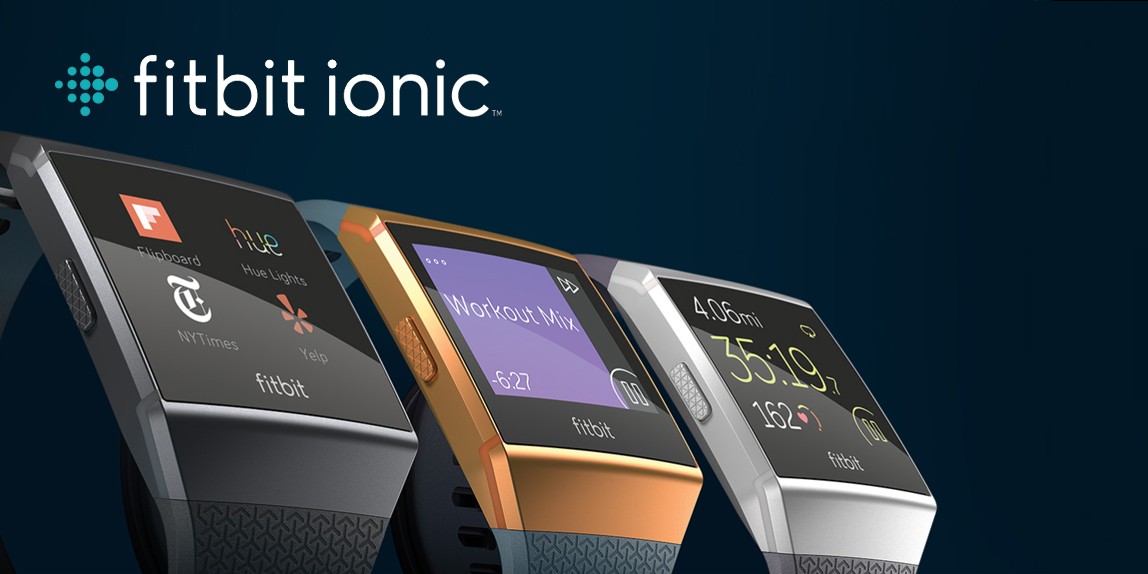 ONE SLEEK TICKER
Fitbit combined their fitness know-how with their subsidiary Pebble's smartwatch knowledge to come up with this new impressive wearable. Out of the box, we can see that the Fitbit Ionic offers pretty comparable features to its more expensive rivals, so that's a plus point for us. The Ionic packs in much more features, a brighter, larger color LCD touchscreen and of course, smartwatch capabilities compared to their current top-of-the-range activity tracker, the Fitbit Surge.
The smartwatch is sleek and sporty, with one tactile button on the left and two tactile buttons on the right of its body. The aluminium build of the smartwatch barely weighs a whisper on our wrists, making it a perfectly comfortable everyday wear for our desk jobs, and especially perfect for a night on the town waving our hands in the air.
You can definitely take this beauty for a swim or into the shower as well, as it is waterproof up to 5ATM (50m). To us, the long-lasting battery life is the key feature for the Ionic. Lasting up to six days before needing a recharge, this smartwatch truly keeps on ticking.
The Fitbit Ionic is available in three color combinations: Smoke Grey body with Charcoal band, Burnt Orange body with Slate Blue band and Silver Grey body with Blue Grey band. If you are in the mood to play dress-up, the straps can be easily swapped around for more color combinations.
ITS TIME TO STAY IN SHAPE
The Ionic gives you everything you expect from a Fitbit - from Steps tracking, Distance reached, Calories burned, to Floors climbed and Active Session Minutes, you also get Sleep Tracking and even daytime reminders to get you off your behind to walk around at least once every hour. Now, how thoughtful is that.
New to Fitbit Ionic is the Coach app, basically it's a built-in workout helper. With over 40 visual and audio guided workouts built into the smartwatch, all you have to do is click play and follow through the steps. You can choose from multiple trainers and different activities ranging from a short 7-minutes warm-up to 60-minutes of sweat drenching sessions. Do note that you only have access to the pre-loaded tutorials. For full access to all workouts and coaching, you will have to cough up some cash, the price varies depending on the region you are from.
Being healthy is not just all about the exercises. The Ionic also tracks your sleep cycles to help you regulate your rest better at night and also flow your daytime cycle with moments of calm through breathing and relaxation exercises.
Unlike many activity trackers, the Fitbit Ionic negates the need to sync your GPS location via your handphone and with 2.5GB internal storage for music, podcasts or audiobooks and also Bluetooth pairing for wireless headphones, the Ionic truly gives you a phone-free exercise experience.
Unfortunately for those waiting to purchase the Ionic for this feature, Fitbit Pay is not available in Malaysia yet, so that NFC function is moot, for now.
VERDICT
For RM1288 a pop, the Ionic is a good try but it doesn't quite hit the mark for most of the fitness hipsters in our office. Main gripes for them were little apps support, interface bugginess and operational lags. Coming from Fitbit, this watch is obviously made to be a fitness device first, something you can slap on your wrist for your sweat out sessions but just don't put too high hopes on it being on par with the other true smartwatches out in the market today.
Teething problems aside, this is their first foray into the true smartwatch segment and we shouldn't be too harsh on Fitbit. Yes the device might feel like it was rushed out but we know apps support will grow, and the lags and interface issues can be ironed out with future updates. The Fitbit Ionic has a pretty big expectation sneaker to fill but we reckon it will do just fine, just give it some… time.