Lets go Punk with the new Rouge Dior Liquid Lipstick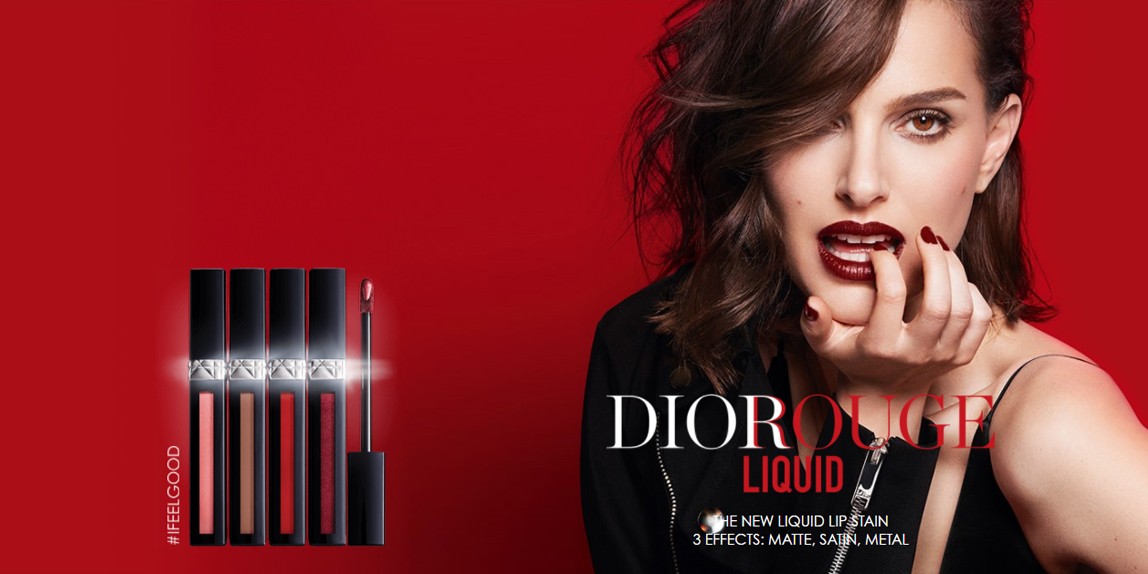 Oh ladies, a little attitude is an absolute must when wearing dark shades like these! Before we jump into the New Rouge Dior Liquid Lipstick shades, here is a word of advice from us; when wearing a dark colour lip shade, you have to make sure to only play it up with one facial feature, in this case the lip, so make sure that the rest of your makeup is kept minimal.
There is always something refreshing about glosses, sparking stains and subtly shimmering lipsticks. If you want a look that is perfect for the night out with your girlfriends, the New Rouge Dior Liquid lipstick range definitely has something for you. From burgundy to blackberry, there is a lipstick shade for everyone! No worries ladies, you can totally pull off the deep dark shade but no you can't wear it every day though, you can always swap out your regular red for one of these dark lipsticks!
Are you a beginner to dark lipsticks? If so, chose a shade to match your skin tone, or a softer tone as opposed to deep rich shades. Also do remember that dark lipsticks will look great on fair skin tones, thanks to the contrast between the lighter skin and the darker lipstick colours. You can give the 895 Satin - Reddish Black shade a go! The thing about the 895 Satin - Reddish Black shade is the fact that it goes on perfectly satin for that extra impact. Oh, and the slim applicator makes it easy to get a precise application, a must for bold colors. This long-wearing reddish black shade will maintain its grunt throughout the day.
Do you have a more fair to medium skin tone? Then no worries ladies. The New Rouge Dior Liquid Lipstick has just the shade for you. Try the 862 Hectic Matte - Dark Purple. Tthe one colour that can never go out of fashion is definitely red, and the same rule applies to the counterpart shades as well. This purple shade is perfect for all types of skin tones! Make sure the rest of your makeup is neutral when applying this shade. This deep, dark purple will certainly do you justice by brightening up your skin tone. You can try pairing this shade with textured, heavier fabrics in navy, deep greens, and even some stronger red hues.
Ladies, making a statement is definitely the way to go when it comes to vampy lipsticks! Want a little touch of gloss and satin finish? And don't want to sacrifice the longevity of a matte? Try the Metallic lipsticks then! Metallics are bold, vibrant, and it creates dimension to your lips. Try the 979 Poison Metal - Red Plum to help create a pouty lip, this lip shade also creates a new adaptation of the classic red lip. You can wear this look at work and also the night out with the ladies!
Let's stop playing it safe! It's time to take the matte dark lip to the next lip level. Before doing so, make sure you have a defined brow, mascara and fake lashes on and a light blush and you are set for what's coming next! Apply the 901 Oxblook Matte - Oxblood after applying a little foundation on your lip to neutralise the natural lip colour and to allow the pigment from the lipstick to stay true to the shade. Feel free to draw your lip line with a lip pencil liner to give you a great definition and keep lip colour from feathering. Like it? Wear it for a hot date with an elegant dress!
Now ladies, make sure to wear these shades with utmost confidence while enjoying the vibrant finishes; matte, satin and metal. These shades have lightweight coverage and long wear that does not compromise your comfort! Take pleasure of having a lipstick that hydrates and gives your lip a pop of color ladies! Like what you have read ladies? Waste no time ladies, head to the nearest Dior Beauty Counters or resellers and make your purchases of the New Dior Rouge collection.