Slay Your Vacay with the Morphe x Bretman Rock's Babe in Paradise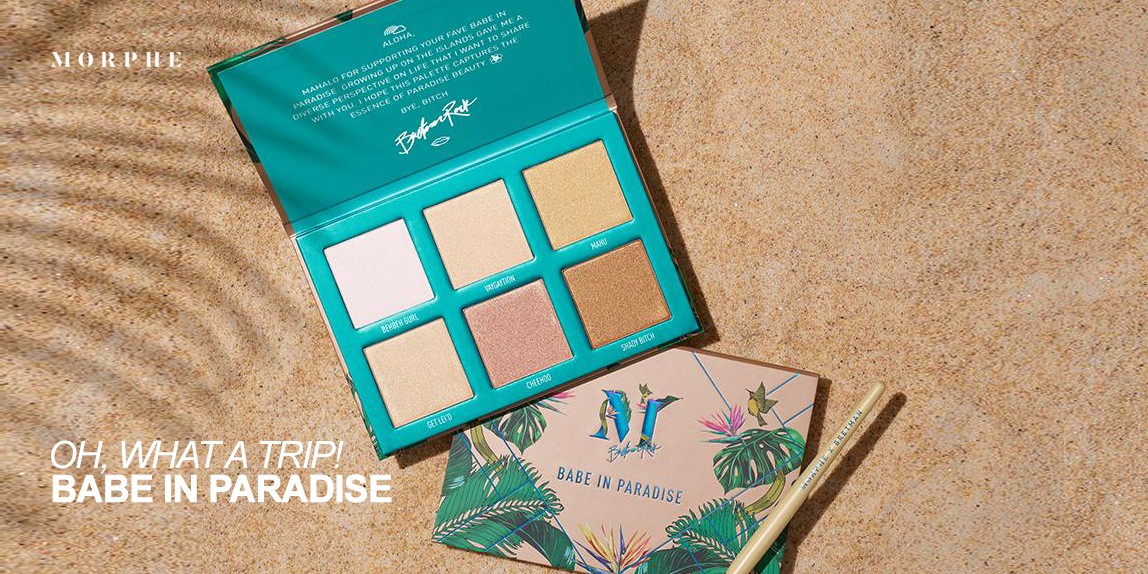 The Ocean Grown Morphe Babe, Bretman Rock - that hails from a tropical island; Hawaii, plays and slays makeup on a daily basis. From jaw-dropping tutorials to comedic bits filled with laughters.
Outdo the beach babes with a glow beyond gorgeous
Highlighters are extraordinary when it comes to achieving shiny, glowy, radiant and luminous skin and these babies are no exception, they are daringly creamy, zero-gravity highlighters that create explosive prismatic effects.
This gorgeous palette comes in six beautiful shades: Behbeh Gurl (pearlescent pink), Vaygaytion (iced champagne sheen), Mahu (gilded gold), Get Lei'D (peachy pink sheen), Cheehoo (soft rose sheen) and Shady Bitch (golden copper luster).
There is always a way to achieve that glow that you want. Keep reading to find out some of our suggestions on how to highlight based on your personal preference!
A Modest Slay
For those who likes a bit of shimmer, you always pop it like it's hot with a subtle-yet-fierce highlight to naturally enhance what yo mama gave you! You can do by first choosing the shade that naturally enhances your complexion and gives you a subtle, radiant glow. Then, dip the edge of the Custom Fan Brush into the highlighter. Hold the brush away from the ferrule and sweep the highlighter seamlessly onto skin. Apply it to the high points of your cheekbones, following the curvatures of your face. And you are good to go!
The Honest to Goodness Slay
But if you like to make the room go boom, then you can simply do this by adding in other shades and creating mega dimension. Try applying the highlighter shade in a C-shape, starting from your cheekbone, working upwards to your temples. Continue this by sweeping onto the bridge of the nose, inner corners of the eyes, underneath the brow bone and Cupid's bow. Okay, if you think that's too much, you can always apply some foundation to undo it.
The Ultimate Slay
Now if you would like an ultimate level of shine then you can try mixes of all the shades. All. Over. The. Body. Start by choosing the brightest, most luminous shade in the palette. Then, take a concealer brush and spray some setting mist onto the bristles to dampen it and get your powder brush ready for some major body highlighting. Apply the highlighter onto your brow bone, inner corners of eyes, center of lid, highest point of cheekbone (closest to eye), cupid's bow, chin, ears, shoulders and collarbone to achieve a super slay look!
It is truly made for every Morphe Babe under the sun
Heck! Just do as you wish in order to achieve that sun kissed glow. The Babe in Paradise palette will be out on the 1st of May, 2018 at all Sephora Malaysia outlets.