Unveiling the Coach x Selena Gomez Collection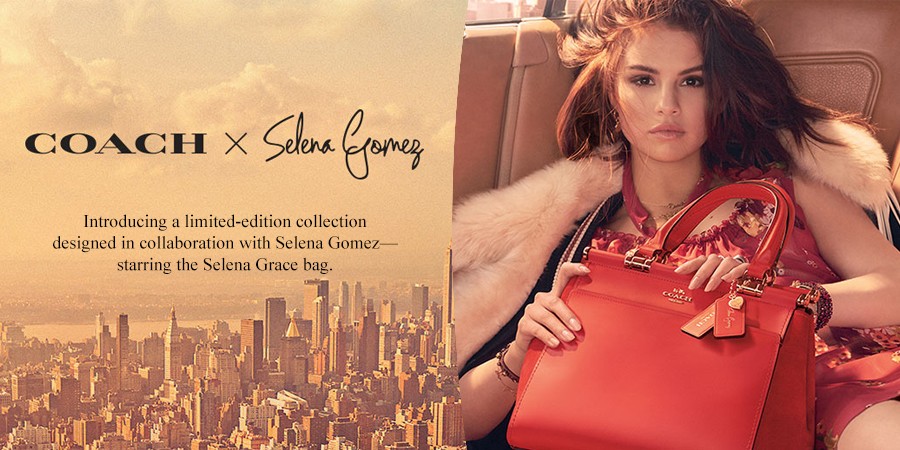 This week, LoopTalk uncovers the fabulous Coach x Selena Gomez collab with the ultimate style guide! What we love most about Coach x Selena Gomez? We love the fact that the singer has given her personal touches. For instance, messages like "To Be You Is To Be Strong," and the base of the bag is embossed with the phrase, "Love Yourself First," is definitely appealing!
Before we unwrap this collection, let us give you some quick tips on how to rock these bags. Just bear in mind, when trying to match your bag with an outfit, make sure to pay attention to the metallic details. For example, you can't wear a gold or rose gold necklace with a bag that has silver metallic shoulder straps. If you do then you might come off looking unbalanced. When marrying the pieces together, make sure there is a sense of cohesiveness. Without further ado, let's unwrap some of our picks from the COACH X Selena Gomez collaboration!
Ooze Sophistication with the Selena Grace Bag in Mixed Leathers
Hey girls, wanna achieve a versatile look? Pair your tailored suit with the Selena Grace Bag in Mixed Leathers. You can achieve a business look with this bag in no time! This bag is perfect to carry around while running errands-- the large compartments in this bag makes it easier to throw in your notebooks, shades, keys and stationeries! Do note that this bag would look great with a high waisted trousers or skirts!
Wanna style it up for the evening? No worries, throw on a maxi black dress, some accessories and don't forget those shades that would sweep the crown of your hair up and lastly for a pop colour, wear this bag loud and proud!
Exude Grace with the Selena Wristlet 19 In Colorblock Leather
Throw on the Selena Wristlet 19 In Colorblock Leather after a long day at work to head for the movies as this bag has a very relaxed and easy going feel to it! The compartments are small, so make sure you throw in your essentials; lip balm, compact powder and mascara!
Do you have a petite figure? This is an added bonus! Well, if you do then the Selena Wristlet 19 In Colorblock Leather will do you justice girl! Because these short handles isn't going to compete with your height, instead it will make you look much accentuated!
Radiate Elegance by adding on the Selena Heart Bag Charm
As we have mentioned earlier, it is all about balancing it out! You can't have too much going on. Bring on your bag game by adding some charms onto your bag when you wear monochrome clothes.
There are many types of bag charms out there, from furry to quirky but trust us when we say these charms would give your look an instant lift! These playful little bag add-ons would simply scream fun and flirty. So don't be afraid to dress it up a little with these add ons!
Style it up divas because as we all know when it comes to the finishing touches of your looks, nothing beats the feeling of toting a bag that you enjoy carrying. Now, it is time for you to make a statement, check out these items at your nearest COACH outlet.